Brewster, NY Physical Therapists
Physical Therapy in Brewster, NY
Trusted & Experienced Physical Therapists in Brewster, NY
Physical Therapy is a physical medicine and rehabilitation specialty that remediates impairments and promotes mobility, function, and quality of life through examination, diagnosis, prognosis, and intervention. At PMR of Brewster, we utilize the most current and innovative examination and treatment techniques at our Brewster, NY location to ensure that our patients are able to perform and function at their highest level.
What to expect from our Brewster, NY Physical Therapists:
The patient will undergo an orthopedic and functional examination to identify and diagnose injuries, impairments, or imbalances that may be causing pain or dysfunction.
After the examination, our Brewster, NY Physical Therapists will create an individualized plan of care to meet the goals of the patient, restore function, reduce pain and promote tissue healing to allow the patient to return to their prior level of function.
Manual (hands-on) therapy including joint mobilization, spinal manipulation, dry needling, and soft tissue mobilization may be utilized to enhance tissue healing and restore mobility in the affected areas of the body.
Corrective sports physio and other rehabilitation exercises will be assigned to address any imbalances in strength or mobility, increase strength deficits and improve movement patterns.
At PMR of Brewster, our goal is to identify and treat the "cause" of the injury to ensure that our Brewster, NY patients can perform at their highest level and to reduce their overall risk of injury. We pride ourselves on patient education which empowers our patients to take an active role in their care and overall health.
PMR of Brewster offers non-surgical drug-free care for a variety of conditions, including back pain, neck pain, and much more. Call us today at (845) 279-1135 or send us a message to schedule your first appointment. Our facility is conveniently located at 1620 Brewster Town Center, Brewster, NY 10509.

Physical Therapy in Brewster, NY
Our Brewster, NY Facility Features:
-Physical Therapy
-Chiropractic
-Pain Management
-DTS Table (Spinal Decompression)
-Diagnostic Testing
-Massage Therapy
-On-Site Gym Facilities & Trainers
-Acupuncture
-Physiatry
-Physical Therapy -Chiropractic -Pain Management
-DTS Table (Spinal Decompression) -Diagnostic Testing
-Massage Therapy -On-Site Gym Facilities & Trainers
Our Brewster, NY Physical Therapists
Randy Eskenazi, PTA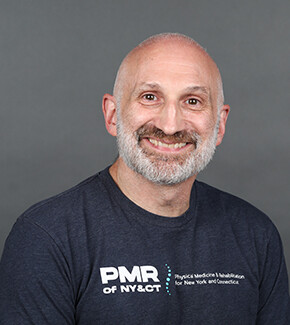 Randy Eskenazi, PTA
Randy is a licensed PTA. He graduated in June 1994 from the NYU, PTA program. He has worked in clinical settings for 20+ years specializing in orthopedic rehabilitation. Randy brings experience and knowledge with a personal hands on approach to Physical Therapy and Physical Medicine.
What Our Brewster, NY Physical Therapy Patients Say

Kile Jackson
21:49 08 Jun 23
My experience here was awesome. Staff was welcoming, Professional, and very Knowledgeable. Can't wait for my next visit. See you guys then.

Kelsey Stockton
22:14 18 May 23
I absolutely love everyone at PMR Brewster. Everyone is super nice, they take great care of me and are always accommodating to meet my needs.

Wesley Faulds
19:36 22 Mar 23
I had a problem with my shoulder for 11 months that I could not get to the bottom to, and could find no relief for. After seeing the doctors here, my problem was 80% fixed on the first day!

David C. Diaz
15:10 28 Jan 23
If it wasn't for the amazing people that work here I would not be able to go to work. They are the best at what they do.

Vin Nardini
21:59 26 Jan 23
Northeast PMR is a great place for physical therapy, and chiropractic treatment. They have fixed my back pain from heavy lifting. The staff is super friendly and knowledgeable and always willing to help. All of the clinicians ensure that you come in for your visits and that you have minimal pain. I wouldn't go anywhere else for treatment.

Michelle Reilly
03:04 11 Jan 23

Clare Carr
14:29 01 Oct 22
North Street Physical Medicine is by far the most complete and comprehensive chiropractic, physical therapy and 5 star gym all wrapped up in one amazing building. The therapists are attentive and caring and the trainers are professional and tailor your training to your specific needs. I can't say enough about how much I enjoy receiving my therapy as well as my training at the Brewster location. If you need PT, chiropractic or a gym to get back into shape- this is the place to go!!!

Suzanne Riela
22:13 27 Sep 22
Awesome docs - both Ciatto and Shay - as well as superb office staff - shout out to Therese! Definitely care about their patients and I'm doing so much better than I was two months ago. Thank you PMR!

Christine Carfi
23:48 25 Apr 22
I have suffered for 10 years due to a tail bone injury, unable to sit. I have been in therapy here for the last 5 months, and I am finally sitting at the dinner table with my family, driving myself to and from places. I can not thank this team enough for their hard work , dedication and care! I have freedoms I thought I'd never see again in my lifetime! Thank you, thank you, thank you!

Janice Pollard
20:39 29 Mar 22
Dr. Paul and the entire staff are AWESOME! They take time to get to know you as a person and offer a variety of treatments to best help your needs. I'm very grateful for the care they continue to provide.

I came here for prescribed PT for whiplash, and I have to say that the whole PMR team is great. Chris, Paul, Phil, and Ron all put effort into my recovery and I can't thank them enough. Nicole and Tenari both accommodated my odd scheduling issues and were beyond helpful. You will not be disappointed.

Gustavo Mahana
15:21 23 Oct 21
Incredibly friendly staff who care and make sure each patient gets personalized treatment to help them get better!

Allen Gordon
12:25 14 Mar 21
Dr Mike explains what's going on with a plan for my needs, seems to be helpful. Also PT Mike was great did some scraping felt great afterward. Thanks again!

Corinne Phillips
00:50 04 Feb 21
I would not go anywhere else. They take great care and professionalism in what they do. The whole staff is wonderful.

Alex Klein
04:24 16 Nov 20
Super nice staff and wonderful care

Gabrielle Bruno
13:04 14 Nov 20
Years of training jiu-jitsu has been really hard on my body. The team at PMR has been a critical asset in my recovery from every injury and has helped me get back to doing what I love. They use a number of the most modern research-based methods and this has been a game-changer in helping me feel my best. Everyone is extremely knowledgeable and passionate about what they do. I would highly recommend Brewster PMR to anyone! 🙂

Paige Botticelli
16:06 06 Nov 20
Brewster PMR is amazing! Great friendly staff and great environment! They helped me get back to feeling 100% after hip surgery! Best place to go for physical therapy and chiropractic treatment!

Joanne Stevens
18:09 03 Sep 20
LOVE this facility! The combination of services makes them an excellent medical provider. The staff is professional, supportive and friendly. I recommend them fully.

Christine Meister
18:34 31 Aug 20
Mike has been working on me for several years. He has a lot of knowledge and experience. Every session is very helpful and positive.

Anthony Buonadonna
13:24 30 Aug 20
I recommend Brewster PMR highly they have taken care of me in a most excellent way I am so grateful to all of them thank you all

Ravenwing Darkmarsh
13:27 25 Aug 20

Courtney Spiridigliozzi
10:11 25 Aug 20
I highly recommend Mike and his staff. Mike has been treating me for several years as he has great knowledge in fixing any injury. The gym has a wide variety of work out machines and a happy outgoing atmosphere.

Waldir Mahana
16:44 24 Aug 20
Great people and facilities. Dr. Mike Naccarella developed a well planned treatment plan, informing me of all the steps and the progress to expect. After 3 or 4 sessions I already could perceive improvements, give them time and dedicate yourself to the treatment and you will see results.

Jack Walker
11:36 24 Aug 20
The entire staff is friendly and caring and give top notch treatment. I have back and neck issues and have worked with Dr. Paul, Dr. Mike, and Filipe over the years. They do an incredible job of listening to my concerns while also working to identify the cause of the issues for the best treatment plan. Without fail, I always feel so much better after treatment and appreciate all they've done for my pain management.

Charles Lake
13:59 21 Aug 20
I have been a patient at PMR on and off. Every time I i need their assistance they work around my schedule and the staff is friendly and very professional. I've had chiropractic manipulation, physical therapy and had gotten massages. They helped me recovered from my injuries as well as preventive maintenance for my body. If your looking for a Rehabilitation center PMR is it! Chuck lake

Mike Keto Diesel "Keto Diesel" Trinch
01:07 20 Aug 20
I can't say enough good things about Northeast PMR. They not only have some of the best staff and equipment, the facultiy is extremely clean. Northeast PMR staff are always willing to accommodate my schedule and fit me in on short notice. I have had issues with my neck for years and after only a few adjustments I feel great, no more headaches as well as a massive reduction in tingling sensation down my arm to my fingers. I highly recommend Northeast PMR any chiropractic care as well as physical therapy and rehab.

MrChefjoshua
12:07 19 Aug 20
Awesome staff! Dr. Mike is gentle and easy going, always accommodating no matter what time I get there 😁👍

manuel costales
13:59 14 Aug 20
Great service, everyone is friendly and extremely knowledgeable.

justin jimenez
13:56 14 Aug 20

Janine Marie
21:50 13 Aug 20
Dr. Naccarella & his team are top notch. They are very professional & knowledgeable. I highly recommend this facility.

Colleen Harding
00:46 07 Nov 19
5 stars for sure! The staff are all very nice, knowledgeable and helpful. The environment is clean and they work with your schedule to suit your needs. I highly recommend this place to all.

Matthew Alioto
15:14 12 Aug 19

Frank Ciatto
14:32 12 Aug 19
Back in February '19 I was rearended and had multiple issues and injuries in my neck and lower back. PMRs teir 1 service gave me the ability to regain mobility and flexibility, each day I continue to improve and grow stronger. The entire staff is extremely friendly, always helpful, and truly concerned with each of their patients wellbeing. I HIGHLY recommend Brewster PMR to anyone looking to inprove any injuries they may have, as well as, the other slew of excellent services they offer at their NY facility.

Elizabeth Grathwohl
20:11 06 Jun 19
The team is extremely knowledgeable and their wide range of treatment has been very effective in saving my back. They're super accommodating to patient needs whether it be changing my treatment plan or a simple appointment change. Would highly recommend!!

Nicholas Azzollini
19:46 06 Jun 19
PMR came into my life through a pestering back injury, from high school football. The PMR staff is extremely helpful and knowledgeable; and my road to recovery was swift and hassle less. After any other sports injury from college football, I will be back for treatment!

Lauren D'Onofrio
14:09 06 Jun 19
These guys are amazing! They helped me out with my back and my knee and I'm feeling great. Highly recommend!

Zach Deldin
13:56 06 Jun 19
Amazing people to work with. I would not be able to play my sport with out he help of the PMR staff. They got me back to100% faster than I would of thought.

Stephanie Ferris
15:00 25 Sep 18
After my accident back in october, I hurt my shoulder pretty bad, Dr.Mike & staff were able to get me back into motion and doing things I was able to do before the accident! I absolutely love the staff!! They are SUPER friendly and helpful!!
Next Reviews