Danbury, CT Chiropractors & Physical Therapists
Physical Therapists & Chiropractors in Danbury, CT
PMR of Danbury, CT provides state-of-the-art chiropractic care, physical therapy, sports medicine, and massage therapy for individuals, athletes, as well as the whole family. Our Danbury, CT Chiropractors, and Physical Therapists are dedicated to providing the highest quality treatment by having a complete understanding of the whole body so we can get to the root cause of any health concerns. We are not about the twist, crack, and pop for the quick insurance claim. The Danbury, CT Chiropractors and Physical Therapists at PMR of Danbury are here to be a part of your overall health and wellness journey.
At PMR of Danbury, our Danbury, CT Chiropractors and Physical Therapists treat many types of conditions and injuries, utilizing the latest techniques and treatments available. Our mission is to enlighten the Danbury, CT area about the body's ability to self-heal and self-regulate.
Many individuals who walk through our Danbury, CT office are seeking relief from back and neck pain that doesn't involve surgery. Most patients are looking for a treatment that avoids taking powerful prescription pain medications that come with unwanted side effects and potential dependency. A few of our treatment options include chiropractic adjustments, physical therapy, massage therapy, decompression therapy, and acupuncture. These treatments, performed by our expert Danbury, CT Chiropractors, and Physical Therapists, help improve the function of the spine, reduce pain and inflammation, and help you build muscle strength, which naturally helps with pain relief. These treatments may also help you avoid surgery and reduce your reliance on OTC and prescription pain medications as well as anti-inflammatories.
In addition to helping our patients find neck and back pain relief, our specialty therapists and Chiropractors in Danbury, CT also offer treatments for sports injuries, bulging discs, joint pain, sciatica, pinched nerves, shoulder pain, and knee pain. When we design a treatment program for any of these musculoskeletal injuries, we always take the entire body into consideration.
PMR of Danbury offers non-surgical drug-free care for a variety of conditions, including back pain, neck pain, and much more. Call us today at (203) 744-8013 or send us a message to schedule your first appointment with one of our Danbury, CT Chiropractors or Physical Therapists. Our facility is conveniently located at 1 Padanaram Road, Danbury, CT 06811.

Chiropractic Care & Physical Therapy in Danbury, CT
Our Danbury, CT Facility Features:
-Physical Therapy
-Chiropractic
-Pain Management
-DTS Table (Spinal Decompression)
-Diagnostic Testing
-Massage Therapy
-On-Site Gym Facilities & Trainers
-Acupuncture
-Physiatry
-Physical Therapy -Chiropractic -Pain Management
-DTS Table (Spinal Decompression) -Diagnostic Testing
-Massage Therapy -On-Site Gym Facilities & Trainers
Our Danbury, CT Chiropractors & Physical Therapists
Craig Tilden, DC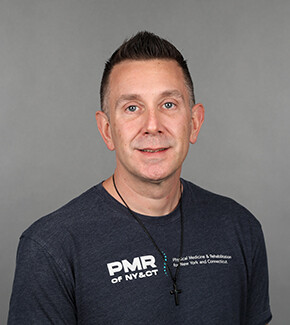 Craig Tilden, DC
Dr. Tilden provides superior patient care that is gentle, personal and integrated including chiropractic care, nutritional counseling and supplementation and implementation of personal exercise programs. He has an extensive background in musculoskeletal rehabilitation ensuring an optimal and effective treatment plan. Dr. Tilden is a 2004 graduate of Life University College of Chiropractic. He received his Bachelor of Science in Exercise Science from the University of Rhode Island in 1997. He is a member of the American Chiropractic Association as well as the International Chiropractic Association.
Joseph Delgiorno, DC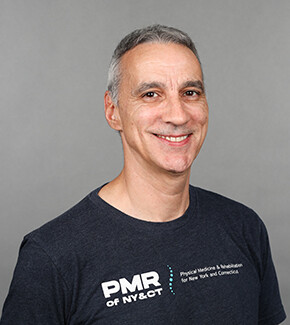 Joseph Delgiorno, DC
Dr. DelGiorno is Board Certified by the National Board of Chiropractic examiners. He is a 1998 Magna cum laude graduate of New York Chiropractic College. Dr. DelGiorno utilizes osseous as well as soft tissue manipulatory techniques.
Randy Eskenazi, PTA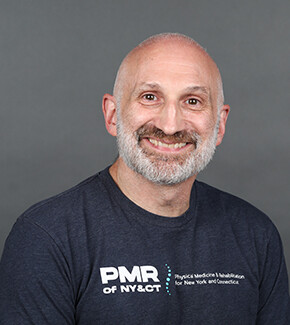 Randy Eskenazi, PTA
Randy is a licensed PTA. He graduated in June 1994 from NYU, PTA program. He has worked in clinical settings for 20+ years specializing in orthopedic rehabilitation. Randy brings experience and knowledge with a personal hands-on approach to Physical Therapy and Physical Medicine.
What Our Danbury, CT Patients Say

tommy tommy
19:44 02 Nov 22

annette vazquez
03:38 01 Nov 22
I am so grateful that I found PMR in Danbury on my search for a physical therapist near me. I honestly didn't have faith in physical therapy due to my past horrible experience, but I must say PMR changed that. Everyone in the Danbury office is so friendly and knowledgeable. It's almost 5 months since I began my physical therapy with Randy, I must say he is great. He is hands on and very attentive. I highly recommend PMR in Danbury.

Charlene DeLuca
00:24 26 Oct 22
Highly recommend this place! Everyone is super friendly and knowledgeable and all work well together. I learned a-lot of strengthening exercises to help with my knee pain from a torn meniscus likely. I was able to do alot of these exercises at home and will continue to work on my strength so if I have surgery it will be an easier recovery. If surgery is in the future I will definitely be back to continues with my physical therapy! David was great to work with and made a painful experience fun and now my husband is starting up with Dr Tillman too!Thanks to all! Keep up the good work!

Hector Vazquez
03:07 01 Sep 22
Love the therapists and staff! Very flexible!

Christopher Dibiase
14:53 19 Aug 22
Craig and Staff are incredible! Best place around and I am so grateful I was referred to them! If you're in need of physical therapy or just not feeling right give them a visit. You won't be disappointed!

Steven Christiansen
22:59 07 Apr 22
These people are the only reason I can walk right now. After two wrong guesses from my previous doctor a member of there staff here, Dr. Craig Tilden, was able to not only quickly identify the real cause of my pain but actually took the time to run the test and then sit down and explain his reasoning to me. It has since been two weeks and I have seen remarkable improvement. The entire staff has been caring and professional and clearly work well together. I would highly recommend this facility for anyone in the area looking for top notch care.

Ashley Newland
14:45 17 Nov 21
I started seeing PMR about a year ago. I was in extremely bad back pain. It hurt to walk. My husband had come here and suggested going in to see if I could gain relief.I found out through X-rays completed in the office, I had disc issues. I left crying thinking my back would never feel better.I started seeing PMR twice a week and little by little through their coarse of treatment my back started feeling so much better. I am so grateful for this office and the relief I am feeling.I still come twice a month and always look forward to my appointments. My back always feels amazing when I leave. And I enjoy the benefits regular chiropractic care provides. In addition to a few other things I am doing, this is the first fall I have not suffered from seasonal allergies. I have heard regular adjustments can help.I highly recommend this office. I can't express how thankful I am for finding an incredible office that provides not only adjustments, but so much more to help with a variety of issues. If you're looking for a chiropractor, thus is a great office to see.

Brian King
18:13 02 Nov 21
Great people, fantastic place. 3 sessions in and I feel like a "real boy" again. Helping me fix 25 plus years of neglecting my body whilst working, spawned by a recent thoracic injury. I'm headed towards symmetry. Fantastic!

Paul GOLDNER
17:05 29 Sep 21
There is only one way to describe this place; FANTASTIC!The therapists are incredible. The are very knowledgeable and empathetic. I was going to PT for 5 months for what I thought was a minor injury. They stuck by me the entire process and never gave up on me. Now, I'm finally all better.The rest of the staff are also awesome; from the receptionist to the head Dr. Everyone knew me by first name. The staff was always incredibly cheerful and welcoming.I've had a knee surgery, two back surgeries, and countless other sports related injuries. I know physical therapy offices because I have been to a lot.These guys are simply the best. Do yourself a favor and go there.

Robert Golenbock
14:07 18 Jul 21
After my ACL repair, I had specific goals to return to normal activities and eventually return to skiing. Dr. Tilden and therapists Laura Unson and Natalia Glenn crafted sessions that were very effective in my recovery. Just as important to me, they constantly emphasized safety during the sessions and in the recommendations for activities between sessions. I have been very satisfied.

Danielle Gassmann
13:07 06 Apr 21
I highly recommend Physical Medicine and Rehabilitation of Danbury. I suffer from severe, chronic migraines and decided to reach out to Dr. Tilden for help. I've been seeing Dr. Tilden for a little over a month now and I am so happy with the results. He and his team have helped tremendously with managing my pain. Dr. Tilden and his team work well together and are very compassionate and caring with their patients. Thank you!

Jeffrey Varughese
15:28 26 Feb 21
Came here after reconstructive acl surgery. Recovery went better than expected. Great care from great people.

Kristen Scappaticci
23:04 15 Oct 20
The staff is very nice, the trainers and chiropractors are very well trained and knowledgeable and the Heath assessment performed is very thorough. They are also very flexible with appointments. I highly recommend Danbury physical medicine and rehabilitation!

Karen Clymer
22:23 11 Oct 20
Great care and a nice facility!

Owen Ruggiero
17:48 06 Sep 20
I had a great experience here and am extremely grateful to the whole PMR team for everything they did for me. They were supportive, flexible, and super friendly. Couldn't recommend them enough.

Danielle McDermott
01:47 03 Sep 20
Caring, knowledgable staff with everything you need right in one office.

Stephen Garcia
18:18 02 Sep 20
Absolutely awesome! Dr. Tilden is fantastic! Overall the entire staff is very professional and awesome!

Brittany Madore
17:41 02 Sep 20
Dr. Tilden is wonderful! The entire staff is always friendly and welcoming. I recommend this place to anyone who asks!

Ravenwing Darkmarsh
13:25 25 Aug 20

Arianna Deldin
19:30 18 Aug 20

audra edele
18:22 27 Jun 20
HIGHLY RECOMMEND! For background: I have been suffering with plantar fasciitis on and off for years. By February 2020, the pain was unbearable and I started going for PT in late Feb. From the beginning, I felt comfortable with everyone in the office. I was told the recovery was going to take months (they were honest and no sugar coating), and it was important to stick with the treatment and exercises. It is now July , and I can honestly say that I am almost 100% recovered, and feel great. This I attribute to the quality care I received at Danbury Physical Medicine. I feel like I ran the gamut of services, starting with Ultrasound to diagnosis the severity of the condition, to weekly acupuncture, to exercises, heat and cold treatment, and massage. All of these services were performed with care and purpose. I was in such pain that I needed to go through the COVID lockdown. Here is where the office excelled: they were extremely conscious of maintaining a safe and sterile environment. Social distancing and masks and gloves were required. The staff were constantly wiping down equipment. I had no concerns around my health and safety in the office. Scheduling was easy and Deb on the front desk is super friendly and accommodating. If I could give 6 stars I would!

Dawn Albanese
17:56 20 Apr 20
The gang at DPMR have been my life savers!No need for cortisone shots with their awesome traction table!. That medievalDevice is very helpful. The private care rooms are a plus. The masseuse's there remedy my back painAnd put me at ease.They're patient, down to earth, informative and professional. I highly recommend them.

Kristin Lindstrom
16:38 25 Feb 20
I have been coming to this facility for over 8 years due to injuries from working in a physically demanding and dangerous profession. They have helped me to recover from multiple surgeries with all the modalities offered. The staff is friendly, helpful and more than accommodating. The doctors really care as they spend time listening and problem solving. They have specialists who do acupuncture, trigger point injections, massage, chiropractic, physical therapy, stem and traction. Not to mention ultra sound and x-rays are offered on site.I really can't say enough about the treatment I have recieved, however my loyalty is pushing on a decade so that should speak for it's self. It's been a long journey healing and as I get closer to feeling like myself again, I plan to remain a patient for maintenance care in the years to come.Thank you to everyone at Danbury Physical Medicine for your diligence and dedication to my health.

Jordan Rodrigues
17:48 13 Jan 20
Marvelous job! Very professional, great people with a passion for what they do and great care in their patients.- Jobe

Corey Coleman
13:20 09 Dec 19

Gordy Owen
15:06 14 Nov 19
This place is the absolute best. Down to earth staff who not only gets you to recovery it takes the time to explain the process. Highly recommend!

Lori DePalma
00:11 23 Aug 19
Car accidents are the worst things!But having a place to go to that helps you recover, physically (and mentally at times when frustrated), I'm so happy with all of my care. From traction on my neck to my adjustments and massages I feel so great when I leave.I've come a long way since my accident last November and a I owe it all to Craig and his extraordinary staff. I even have gotten accupuncture there and trigger shots from the MD that is on staff.I can't say enough positive things.You need healing... this is your place!

Dennis Lennon
18:46 22 Aug 19
What an incredible staff , everyone is so nice and helpful. I was told I would need surgery and after Dr Tilden treated me I felt amazing . The physical therapy dept is also very knowledgeable Dr Mike and Laura worked on my hip replacement and had me walking painfree in no time. I have been with at least a dozen physical therapy offices in the area and none took care of me as well as Danbury PMR and cant forget Dr Joe if your nerves about chiropractic adjustment this man will take all the fears away

Jennifer T
18:11 28 Jun 19
The staff at Danbury Physical Medicine are professional, respectful and knowledgeable. They provided me with a comprehensive individualized treatment plan which addressed all of my concerns. Moreover, every aspect of my therapy was explained to me with measurable goals to document progress. Having been to other facilities in the past, none compare to Danbury Physical Medicine. They are the only ones I trust with my care!

Teresa Neumuller
16:49 24 Jun 19
I love this place and the people that work there. Everyone is friendly and professional. Together they work on the whole person and not just the source of pain. The environment is clean and bright. I would recommend Dr. Tilden and Laura to anyone. They offer massages and physical therapy. A great place!!!

Denise Ritacco
01:16 17 Oct 18
My husband came here barely walking and needing surgery, he decided to give this place a chance and he does not regret it. He feels 100% better and he's not even thinking about surgery anymore. Doctor Tilden and his staff are wonderful. Thank you Danbury Physical Medicine and Rehabilitation!

This place is awesome! Highly recommend! Staff is as friendly and accommodating as they are professional. They always seem to target the right spots on my back and neck and I leave feeling relaxed and completely mobile. I swear I wouldn't be walking today if it weren't for them!

Justine Vidro
20:02 20 Sep 18
The facility has really helped me with my deficits. The staff works well together and everyone is friendly. Appointments are easy to make and the front desk always tries to accomodate with your needs and schedule. Facility is always clean. They offer a number of services including physical therapy, chiropractor, massage and pain management. The physical therapy and chiropractor have helped me significantly, would highly recommend this place!

Lori Mooney
17:14 27 Jul 18

They are the nicest people... They help you How ever they can... They offer physical therapy, massage, TENS, and Acupuncture. I couldn't ask for a better group of people

Dhebora Arantes
20:07 18 Sep 17

James Karns
15:05 10 Jun 17
After a shoulder injury.. I enlisted their services. Notable improvements made. Great staff. This is an excellent establishment, I would strongly recommend.
Next Reviews
Our Team of Specialists are Ready to Get You Started on Your Journey to Wellness.
Our Team of Specialists are Ready to Get You Started on Your Journey to Wellness.