Brookfield, CT Chiropractors
Chiropractors in Brookfield, CT
Trusted & Experienced Chiropractors in Brookfield, CT
PMR of Brookfield located in Brookfield, CT, provides state-of-the-art chiropractic care for individuals, athletes as well as the whole family. Our Brookfield, CT Chiropractors are dedicated to providing high-quality neurologically-based chiropractic care by understanding the whole body so we can get to the root cause of any health concerns. We are not about the twist, crack, and pop for the quick insurance claim. We are here to be a part of your overall health journey.
At PMR of Brookfield, we treat many types of conditions and injuries, combining chiropractic care with the latest techniques in neurologically-based chiropractic care. Our mission is to enlighten the Brookfield, CT area about the body's ability to self-heal and self-regulate.
Chiropractic care is effective because neurologically-based, principled chiropractors give gentle adjustments with precision and care. Within the spine are nerves that are essential communication lines between the brain and other systems of the body. Over time, these nerves can become pinched or otherwise develop interference through misalignments of the spine. With careful chiropractic adjustments, that interference is reduced or eliminated completely, freeing up the brain to communicate as intended with the rest of the body. This is where true correction takes place.
To enjoy the benefits of the true correction that chiropractic offers, you should seek out a Brookfield, CT Chiropractor today – rather than the day you "really" need a chiropractor or doctor. The sooner you can get into the practice of visiting a chiropractor for general improvement and regular adjustments, the better off your overall health will be, including the primary reason you would have gone to the chiropractor or doctor in the first place.
PMR of Brookfield offers non-surgical drug-free care for a variety of conditions, including back pain, neck pain, and much more. Call us today at (203) 989-0772 or send us a message to schedule your first appointment. Our facility is conveniently located at 304 Federal Road, Suite 109, Brookfield, CT 06804.

Chiropractic Care in Brookfield, CT
Our Brookfield, CT Facility Features:
-Physical Therapy
-Chiropractic
-Pain Management
-DTS Table (Spinal Decompression)
-Diagnostic Testing
-Massage Therapy
-On-Site Gym Facilities & Trainers
-Acupuncture
-Physiatry
-Physical Therapy -Chiropractic -Pain Management
-DTS Table (Spinal Decompression) -Diagnostic Testing
-Massage Therapy -On-Site Gym Facilities & Trainers
Our Brookfield, CT Chiropractors
Chris Shay, DC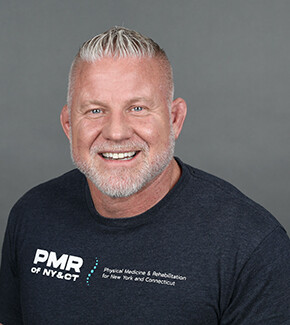 Chris Shay, DC
Dr. Shay received his Doctorate of Chiropractic Degree from Palmer College of Chiropractic in Davenport, IA. He uses a multi-disciplinary "whole person approach". This approach to wellness means looking for underlying causes of any disturbance or disruption and make whatever interventions and lifestyle adjustments that would optimize the conditions for normal function. He also has a strong background in the evaluation and treatment of sports-related injuries, conditions, and physical fitness. He has a firm understanding of the function of the body during movement from high-level athletics to everyday activities.
What Our Brookfield, CT Chiropractic Patients Say

Beba Morales
22:22 02 Sep 20

Delilah Martinez
21:55 02 Sep 20
Excellent care great providers

Paul Carroccio
20:21 02 Sep 20
I've been visiting here for years. Whether for a sports related injury or merely for physical maintenance, I've always been treated well. The entire staff is knowledgeable & professional. I've recommended many of my friends & will continue to do so.

Ravenwing Darkmarsh
13:26 25 Aug 20

Charles Lake
19:59 17 Aug 20
I have had some pass back and muscle issues in the past that has come back and I like to lift weights and train Jiujitsu. Dr shay and his staff have always helped me to stay Mobile and pain free as well as five me things to do to better my problem. The visit is alway on times and the staff if friendly and helpful! If you need treatment I strongly recommend Brookfield PMR. I also been to the other location and they ar great too! Thank you PMRChuck Lake!

Morgan Marquis
19:19 16 Dec 19
Wonderful care and facility! I see Dr. Christopher Shay and my upper back pain / neck pain has reduced tremendously in the past month. They provide insight on how to treat your existing illnesses with acupuncture and other alternative medicines that they provide on site. The whole place doesn't give you that "doctors office" feel, but more of a sports medicine / relaxed place of healing which is what I first took note on. The staff is very welcoming, especially the receptionist Maria! 😁

Brookfield Pmr
14:10 08 Aug 19
Dr. Shay and the staff are wonderful. Very Family oriented practice and they take their time explaining all treatments to their patients.

Andrea Biondo
14:57 23 Mar 19
Dr. Shay helped me so much with my back!! I could barely walk and after just 3 visits I was back to normal.

Connie Russell
20:38 19 Mar 19

Mitch Conner
19:58 15 Mar 19
Very friendly and knowledgeable. I couldn't be happier with how they treated me and how great the results were. Would highly recommend them to everyone with any sort of injury and issue!

John Mulvihill
19:34 15 Mar 19
Been coming here for years for both injuries and injury prevention. Staff is knowledgeable and caring. Appointments are easy to make.
Next Reviews